The 'Hot Rod' of the BIGFOOTs











The truck you are about to see started life as BIGFOOT III. It was built by Midwest Four Wheel Drive Center in St. Louis, Missouri during the fall of 1983. III made its debut at the Pontiac Silverdome January 1984 sporting 8 tires. The truck has been in numerous TV & Movie appearances, magazines and advertisements. It is the third in a line of trucks built by Bob Chandler.
Any reference to LEGEND can include its former names. Legend was known as BIGFOOT III from 1983-2000 and Dixie Thumper from 2005-2006.
In 2000 BIGFOOT 4X4 inc. donated this truck to the E.M.T. financial fund. The truck made its way to a storage facility in Orlando, Florida where it sat unloved for 5 years until it was rebodied and named Dixie Thumper. In 2006 BIG Stevo found this truck and purchased it sight unseen bringing to an end a long 6 year search, and the LEGEND was born.
There's heroes and there's Legends. Heroes get remembered but Legends never die!
LEGEND is dedicated to Bob Chandler from one of his biggest fans!
---
BIGFOOT III started life as a 1983 Ford Lariat F-250 regular cab longbed pick up, with a Blown Boss 429 engine. Many of the first monster trucks had roll bars, winch's and hundreds of products off the shelf made for pick up trucks. III also had a stock interior, power windows and working lights. The first monster trucks had "real" truck bodies and beefed up truck frames.
The build begins
---
66 DAYS LATER
The below pictures were taken during III's trucks debut in January 1984.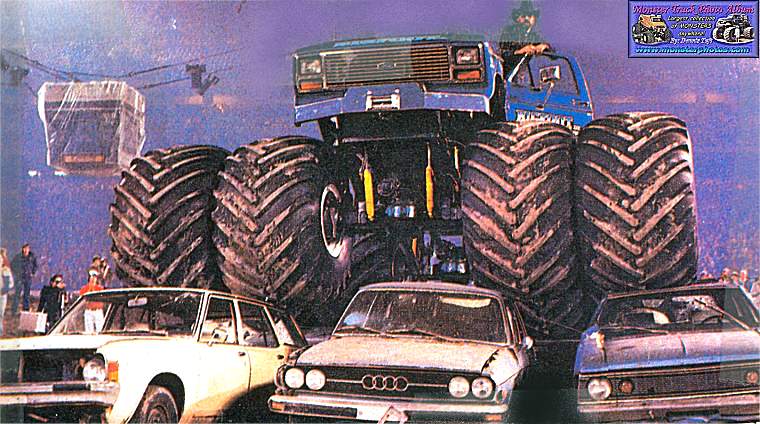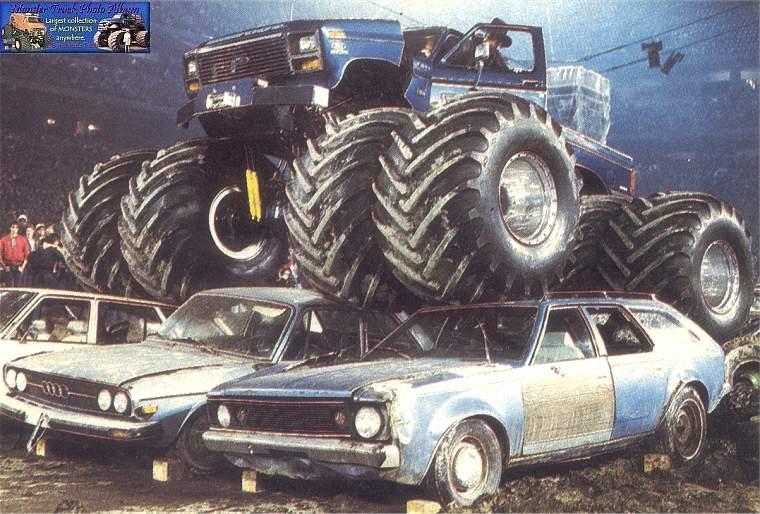 When built III truck did not have planetaries (the bigger black "hubs" in the center of the wheel). Because of this and the body changes, many people think they are looking at different trucks, when in fact it is all one truck. LEGEND has had only two cabs in its life. When updating its look, BIGFOOT changed the front clip and bed. The only other cab ever on this truck is the current 1991 extended cab.
In this black and white photo you can see the III's tilt hood. Many of the first monster trucks had the tilt hood as a unique feature. III's brothers, I, II, IV, VI and VII all had tilt hoods at first. After VIII, the BIGFOOT fleet would never use them again. V never had a tilt hood but did have a stock Ford body.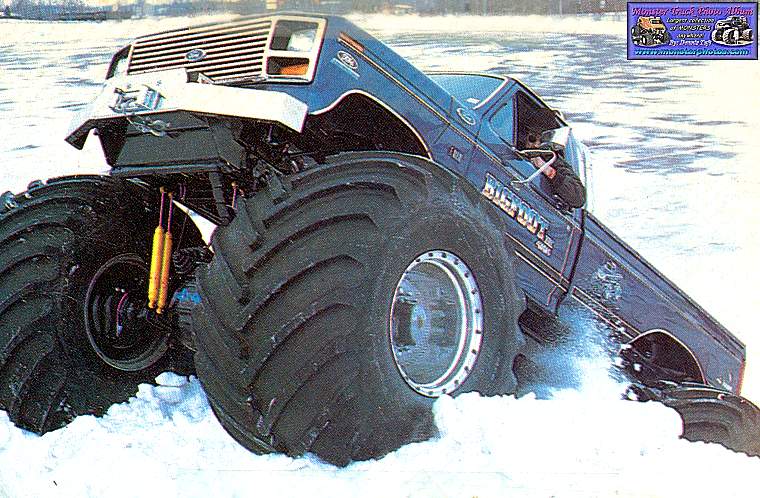 Here "The Man" is seen playing with his new toy in the snow.

This is Big Stevo's favorite picture of III!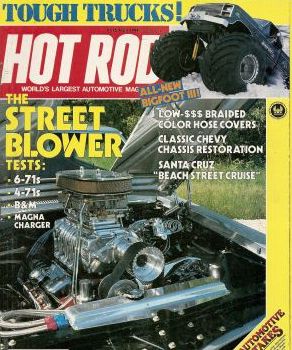 Hot Rod Magazine cover April 1984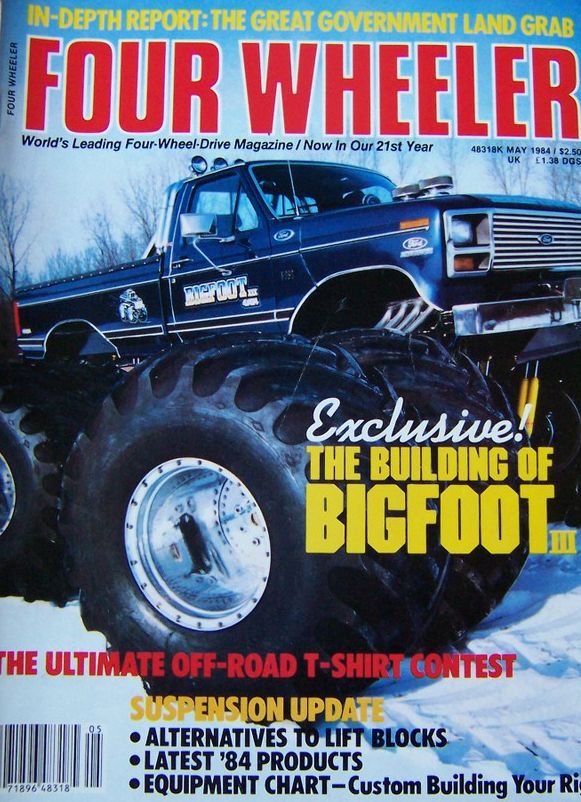 Four Wheeler Magazine cover May 1984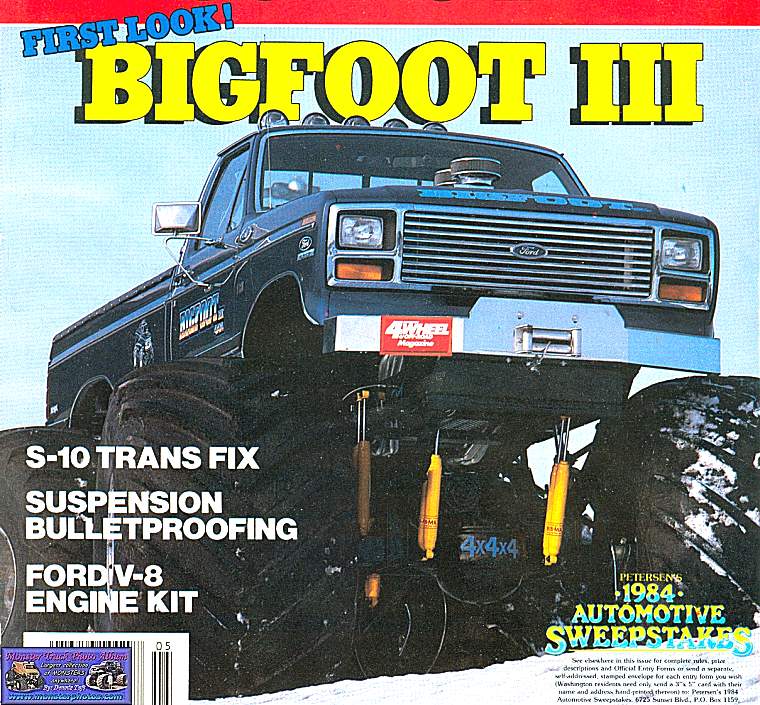 4 Wheel & Off-Road magazine cover 1984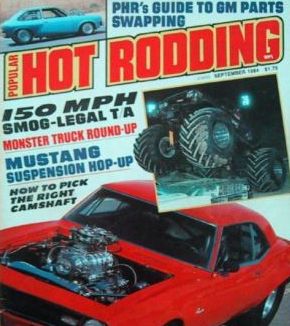 September 1984 issue of Hot Rodding magazine.

Bigfoot III was the first monster truck to appear in a music video.

"Leader Of The Pack"

It was filmed in NYC for the LEGENDARY music group U.T.F.O.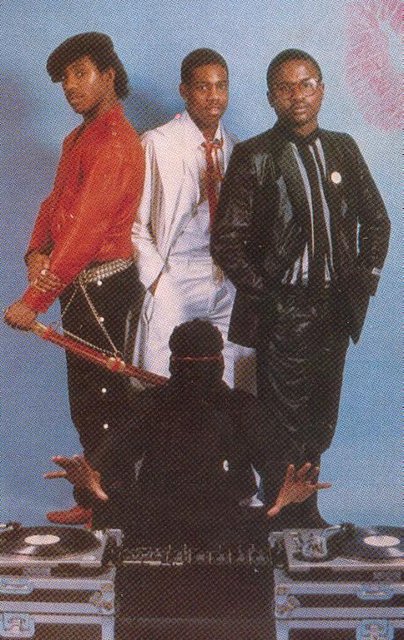 U.T.F.O. (which stood for "Untouchable Force Organization") (Doctor Ice was the "Hip-Hop Physician," Educated Rapper was a college student who wore a suit and tie, Mix Master Ice assumed the persona of a ninja since he would "cut things up" on the turntables, and Kangol Kid got his name due to his affinity for always wearing Kangol-brand hats)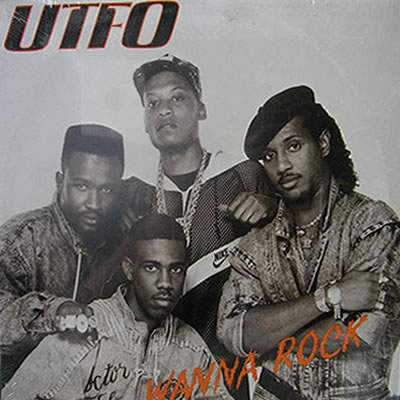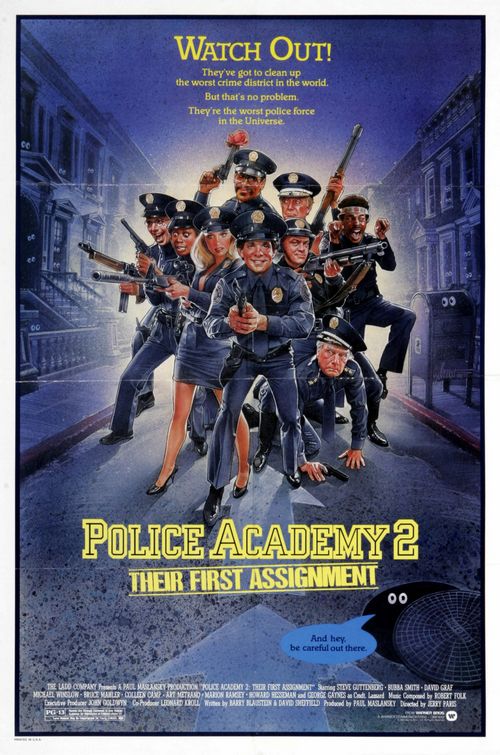 Below
On location in California, III was used in the closing shots of Police Academy 2.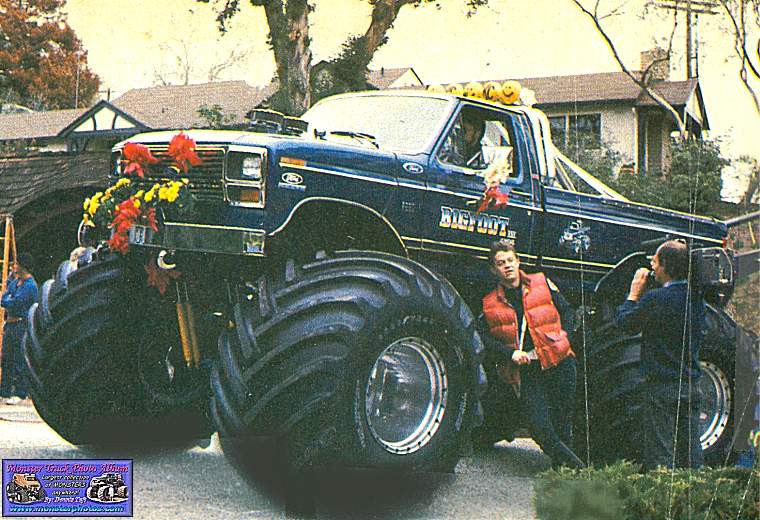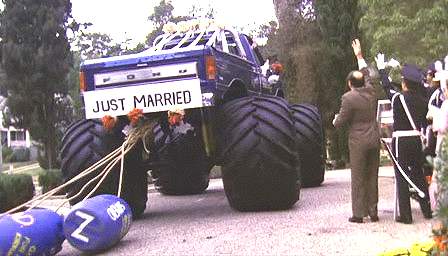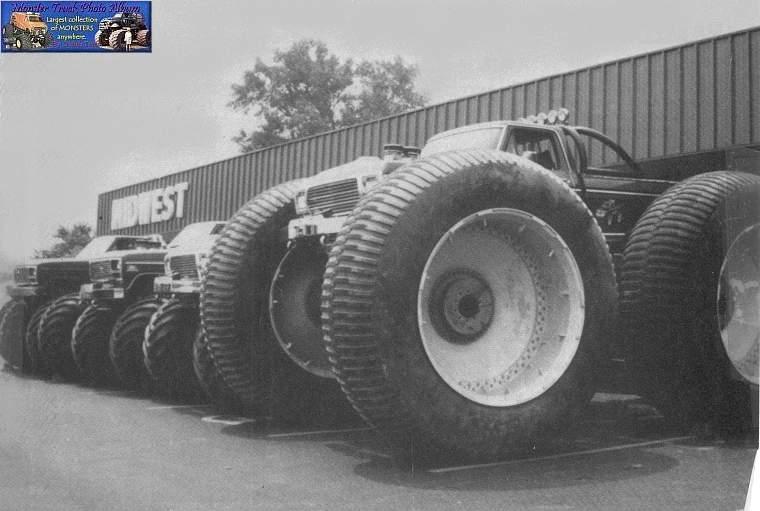 Look close and you can see LEGEND and his brothers. Taken sometime in 1984? In order from right to left- I, II, III, and IV.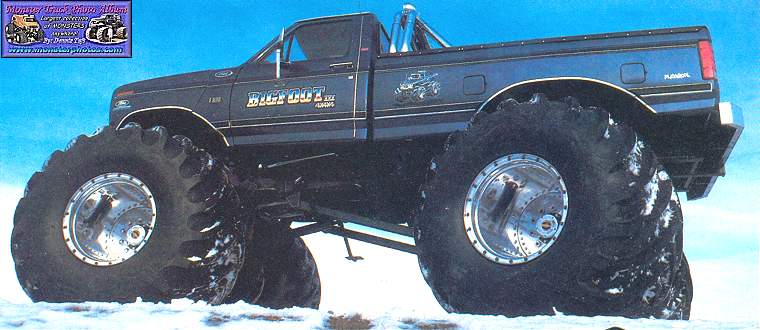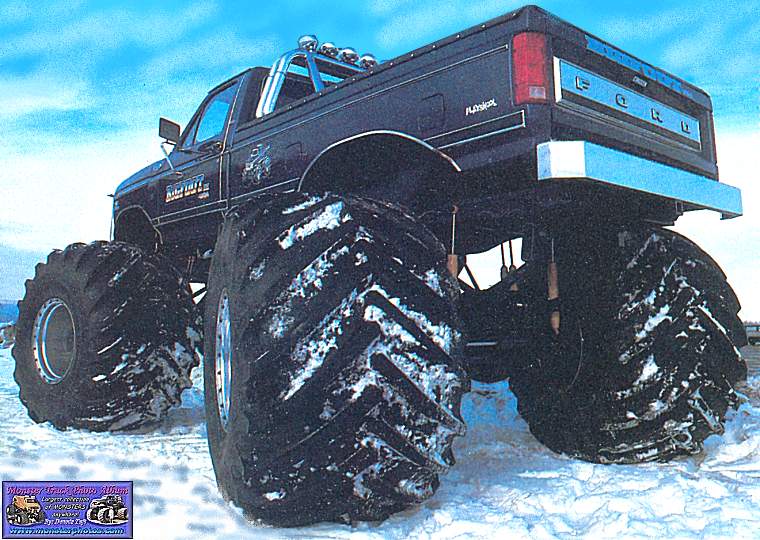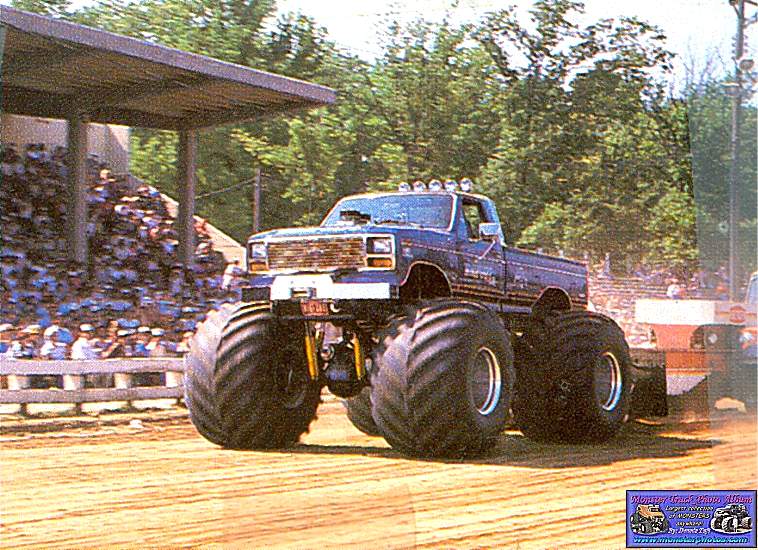 40,000 pounds of weight sled pulled for fun- NO PROBLEM!
In 1987 Ford changed the truck bodies to the F-series line. In the fall of 1986, a special Ford truck package called the "BIGFOOT Cruiser" would be made for the upcoming model year as a limited edition street truck for the general public.
III's original chrome Warn winch bumper was replaced with a new Warn Enforcer winch bumper. III was the first of the BIGFOOT fleet to see this new body change, III was also used to help promote the BIGFOOT Cruiser, with his brothers following later with the newer look.
In 1988 LEGEND had the planetaries off a Case 1200 added and the original dual wheels were modified to fit on the new hubs.
Additional frame strengthening was done, additional hydraulic rams were added to aid the steering as well as giving III full hydraulic steering. 4 more shocks were added to help comfort the growing air the truck was getting.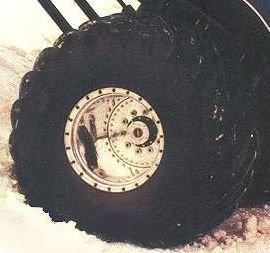 <--->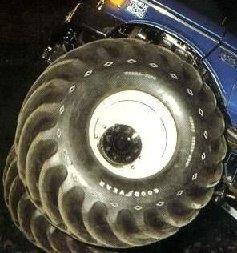 Military 5 Ton Axle Hub <--->Planetary Heavy Equipment Type Hub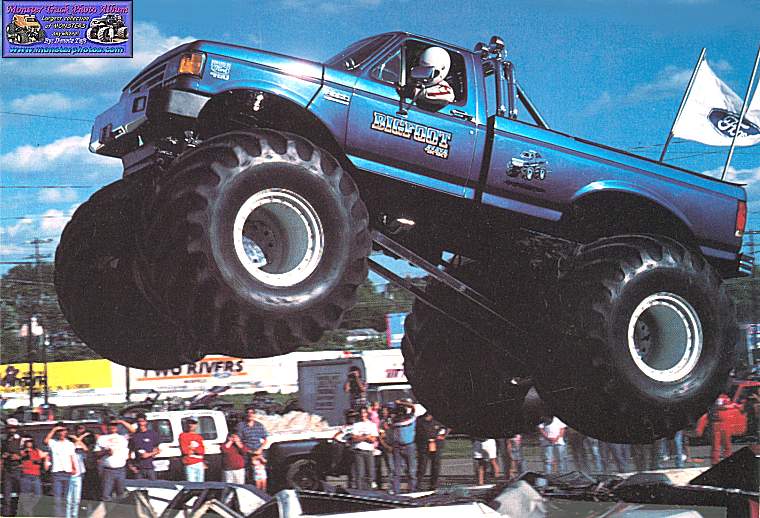 When LEGEND made its debut it had 8 tires. Bigfoot II as seen above has the exact wheels used on the inside during the debut. Notice the bolt ring. The other wheels were attached to this "bolt ring". These same wheels as seen above are what sits on LEGEND today.
III's wheels page, coming soon...
Above, III and his older brother II(background) are seen at the Home of BIGFOOT in 1990.

In the early days of III, (1984-1986) many people confused BIGFOOT III and IV for one another (both having the 80-86 style nose). In later years when the fleet changed to the newer bodies, (1987-2000) many people again would confuse BIGFOOT II and III for one another as they were basic twins from the frame down.

Side note: Big Stevo, is considered by many as an authority on telling the BIGFOOT fleet apart from one another. He has shared a few of his tricks with a couple that have gone on to spread the how to. If you have a picture that you would like looked at, feel free to ask. He is glad to help.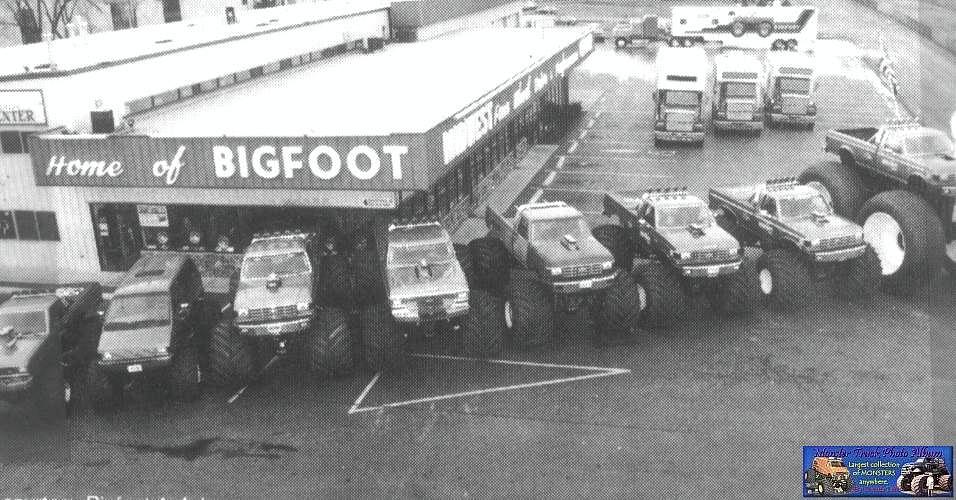 Above: We know LEGEND is in here somewhere? Can you guess where he is? Hint, he is next to his "little" brother:o)
Below: 1989 saw a gathering of our truck and his brothers for the families
5000th
show. III is seen between V & IV (III is leaning on V's left side tires).

Below: Legend spent its later years with BIGFOOT as a ride truck. One of two trucks (II & III) known as Safarifoot. Here LEGEND is seen with its third body style-- A 1992 Ford F-series nose.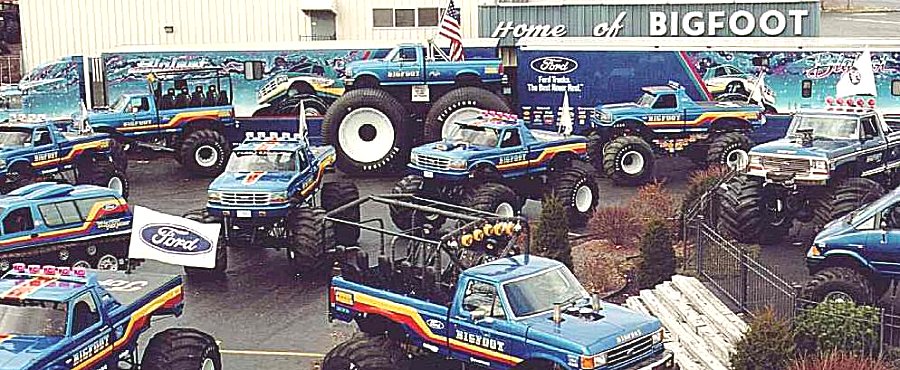 Look close and you will see Monster Photos' own Dennis Taft climbing aboard for a ride.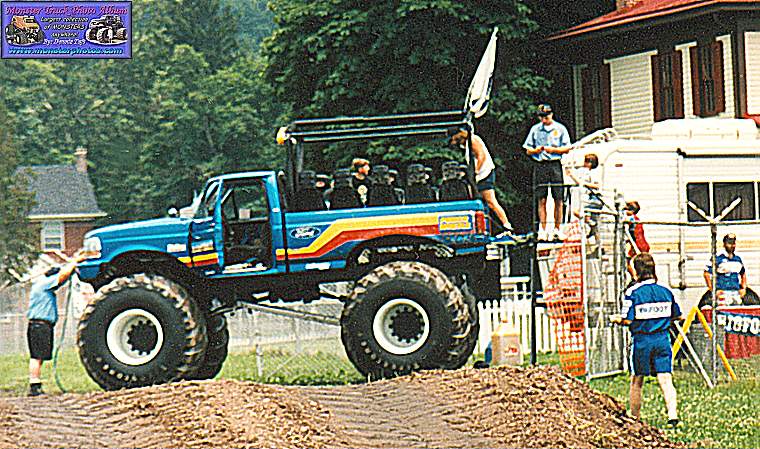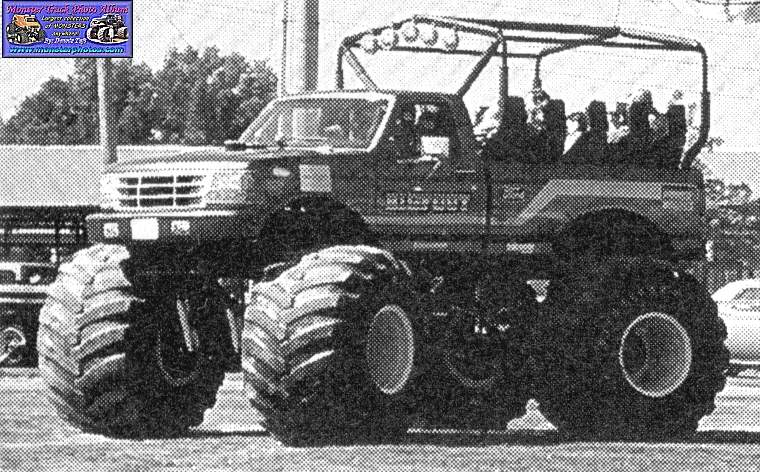 This is the last known picture, taken early 2000, of LEGEND as BIGFOOT III. Soon after the body was removed and it was all shipped to Florida where it would sit unassembled and unloved for 5 years at a storage lot.

A few weeks after the truck left St. Louis, Big Stevo started his long search for his favorite of the BIGFEET. He never would stop looking even when others told him he would not find it and he was wasting his time. His dream would and DID come true.....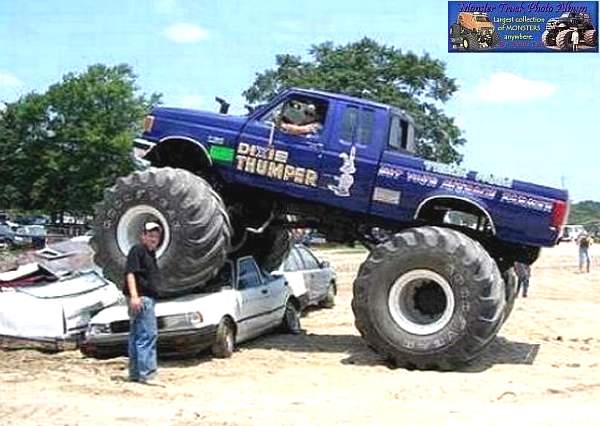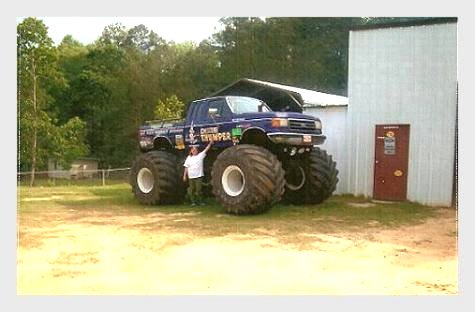 Above: After being rescued, here III is seen as the Dixie Thumper in Alabama.
A mud racer found III and worked to get him up and running again, setting aside some original parts and using newer ones to look closer to his mud truck. The proud Southern man, renanmed the truck to go along with a mud racer! After deciding to go back to the mud, the big truck was in search of a new home. The truck was mistaken for BIGFOOT VII when put up for sale.

One look at a single side picture from thousands of miles away and Big Stevo saw the mistake and the task ahead... HE FOUND III and IT WOULD BE HIS!

23 years after being built, Big Stevo had early plans drawn up for the new look of III.

Along the way, Big Stevo met some amazing men in the monster truck community. Jeff Hawkins was one of them. He and Big Stevo would toss some idea's back and forth. A thought was to include somehow the things they both thought important in American history. Everything from the X-1 to National Monuments were all considered. Big Stevo also wanted to pay tribute to some American Legends like the founding fathers and inventors like Howard Hughes as well as some of his favorite Athletes and Hollywood types. Big Stevo was not a real wrestling fan but was in awe as a kid at the sheer size and strength of Hulk Hogan. His sports hero was John Elway from the Denver Broncos, his favorite TV/Movie stars were Erik Estrada & Larry Wilcox, and others were also considered to be honored on the big truck in some way.

Ultimately this was the overall look chosen for now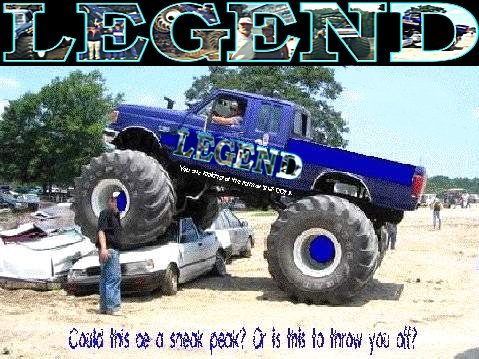 Scheduled to debut the following spring, this was the Big Stevo's concept of the new look.
The new look would have to wait...
When the big truck arrived at Big Stevo's the seats for the riders were removed. Over all the truck is in GREAT shape. Because of the attention it received at BIGFOOT it was still running strong. Most of the original parts/equipment were still on board and working great.

The wheels were surprisingly in good shape for being 23 years old. The tires were old but they were original BIGFOOT Good Years that remained on III's wheels and stored at the BIGFOOT shop until the truck was donated.
BIGFOOT switched from Good Year to Firestone in the early 90's. The wheels can be seen on a few of the feet in the early years as they were built to be the inside wheels on III when it debuted and subsequently when they needed dual tires. They are extremely heavy duty and were well built. The plan is to keep the current rubber on as long as they are safe to run thus keeping the truck as original as possible.
---
In late spring a new solid double/single roll bar with 4 oversized KC off-road lights was installed to bring back a more traditional look.

The bunny is on the run... A temporary vinyl cover is the beginning of Big Stevo's vision. This is only temporary until the truck gets a ground up restoration and new paint in the years to come. Some of the original parts are being looked at to see if restoration can be made or new parts will need to be fabricated.. Our original plans were to have painter/restoration choice, the Legendary custom hot rod fabricator Boyd Coddington handle the task until he passed away.
The plan changed to temp cover until a new plan is found.
We have been approached and also sought a few other replacements.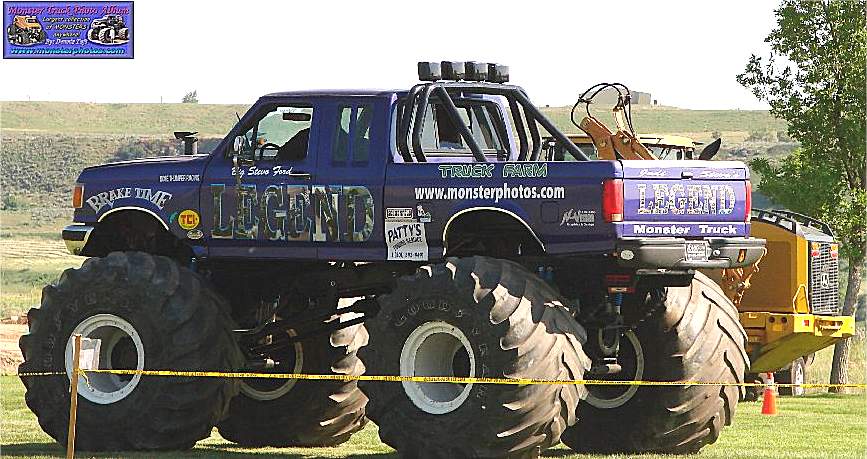 In the spring of 2008, Dennis Taft owner of monsterphotos.com, designed LEGEND's new graphics.

Left cabside

Right cabside

Inside the letters of LEGEND would be pictures of III over its life.

The tailgate, was a collaboration of many involved in monster trucks and paid tribute to the men and machines that gave BIGFOOT the competition to keep pushing the limits. Many GREATS were captured in the unique tribute.
What is LEGEND up to these days?

LEGEND no longer appears at shows and has retired from public appearances. He spends most of his time being the largest part of the Ford Family BIGFOOT collection. Occasionally the big truck will come out of hibernation and show up at a local school or parade.
After BIG Stevo retired he wanted to focus on other things like family, health and other hobbies so he had no interest or plans to publicly campain LEGEND and stopped taking appearance requests.
On January 2014, LEGEND aka BIGFOOT III will celebrate his public debut over 30 years ago. Plans are in the works for a party for the BIG truck...

Big Stevo's thanks go out to Bob, Penny and Jim at BIGFOOT, Dennis for putting Big Stevo's thoughts into reality and the many monster truck owners & drivers that became a part of the tribute.

Stay tuned and thanks for stopping by.
Don't forget to stop in the BIGFOOT shop and BUY BUY BUY some BIGFOOT gear to show your support!!!
Ya'll come back now ya hear!
---
Fun facts about LEGEND
It was built in a then record setting pace of 66 days.

It was the first monster truck to use 8 66 inch terra tires.
It was the first monster truck to wear 10 foot tall tundra tires.(These were made for the Alaska land train).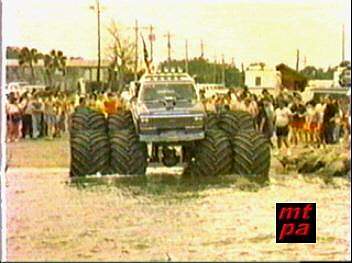 It is the only monster truck to drive into Lake Pontchartrain. YES, III can float and drive on water!

It was in the movie Police Academy 2- Their First Assignment in 1985

It was the first monster truck to appear on MTV in a music video for the group U.T.F.O.

The whole time at BIGFOOT, LEGEND only had one cab, replacing the front clip and bed to update the look. The only other cab it has had sits on the truck today.

He was the last of the original 66 inch Feet fleet to be just a BIG truck (Stage 1). All of His baby brothers were built for racing. (Stage 2 & 3 style trucks)
Legend has an (OFS)Onboard Fire Suppression system and (RII) Remote Ignition Interrupter.
LEGEND has doors that lock just like a real truck. The windows even roll up and down!
Like today's modern racing monster trucks, LEGEND has a full in-cab roll cage. Unlike modern trucks, LEGEND has room for up to FOUR riders inside the cab- not including the driver!
Copyright © 2006-2013 LEGEND Monster TruckŪ